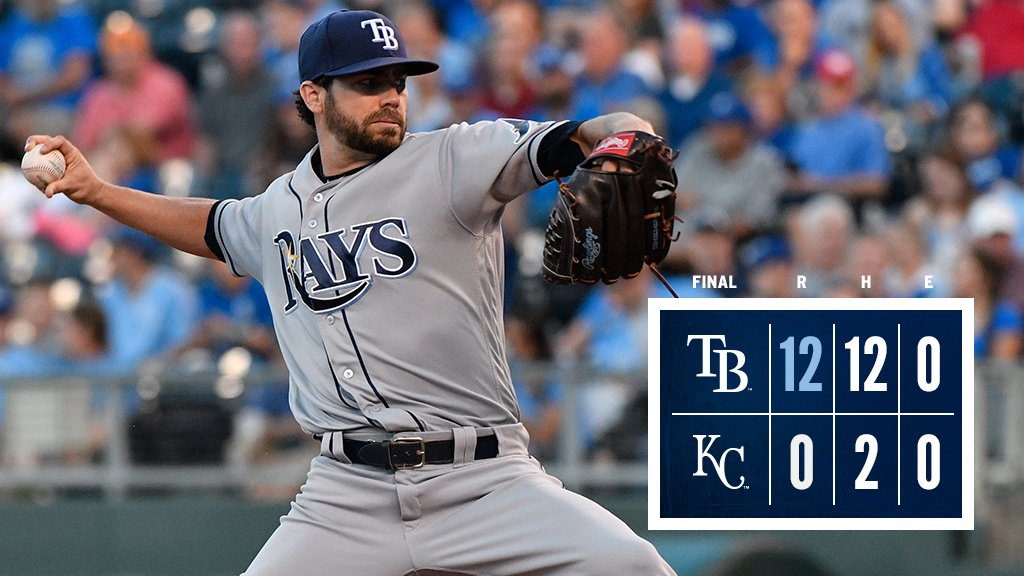 The Rays, 66-67, won 12 to 0 over Cleveland as they continue to stay in this playoff race. They are now 2.5 games back in that crazy wild card race. 
In the first, Evan Longoria hit a sac fly to put the Rays up 1 to 0. In the 3rd, the offense really got going starting with a 3-run home run from Lucas Duda (7) to make it 4 to 0. Logan Morrison then hit an RBI double followed by a 2-run home run from Wilson Ramos (7) to put the Rays ahead 7 to 0. In the 4th, Kevin Kiermaier made it 8 to 0 on an RBI single to extend that lead. In the 9th, Cesar Puello, a new acquisition, added an RBI single and then scored himself on a 3-run home run from Logan Morrison (32nd of the year) to make it 12 to 0 in a huge night for the bats.
Lomo finished the game 2 for 4 with 4 RBIs. Kevin Kiermaier was 2 for 2 with 2 walks and scored 2 runs. Adeiny Hechavarria was 2 for 3 and scored 2 runs.
Austin Pruitt (7-4) went 6 strong innings, allowing just one hit, 1 walk, and struck out 6. Matt Andriese, fresh off the DL, went 3 innings, allowing a 1 hit and struck out one. Andriese saved the bullpen and appears ready to rejoin the rotation as well, which is good news for the team.
Tampa will send Alex Cobb to the mound on Tuesday night (game begins at 8:15 PM). The Rays will attempt to get back to .500 and attempt to move up another half game in the wild card standings. They aren't going away anytime soon it appears.
Durham Bulls
The Bulls won 5 to 2 over Charlotte and are now 85-52 on the season (Brent Honeywell was suspended for 4 games, just an FYI). Daniel Robertson was 1 for 3 with a walk and scored a run. Trevor Plouffe was 2 for 3 and scored 2 runs. Shane Peterson was 1 for 4 with a triple, drove in 3 runs, and scored another. Ryne Stanek (3-0) got the win in relief, going 1.1 innings, allowing a hit, 1 walk, and struck out one.