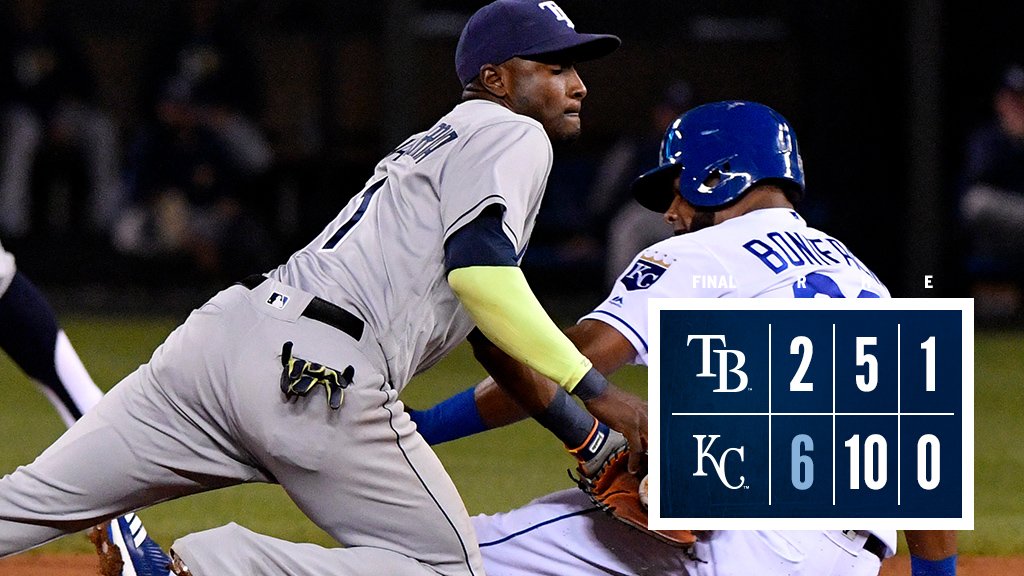 The Rays, 66-68, fell 2 to 6 to Kansas City last night in a game they could not afford to lose. They are 3.5 games back in the wild card standings and have at least 6 teams to chase down. 
After the third and 4th, the Rays were down 2 to 0 as the offense failed to show up and the Royals finally, after 4 games, broke through and got on the board. In the 6th, Logan Morrison hit an RBI single to make it 2 to 1. In the bottom of the inning, the Royals made it 3 to 1 but in the 7th, Brad Miller made it 3 to 2 on his 7th home run of the year. In the bottom of the inning though, the Royals extended their lead to 6 to 2 and never gave the Rays a chance to attempt to come back.
Kevin Kiermaier was 1 for 4 and scored a run. Brad Miller was 1 for 3 overall with the home run but struck out twice (still hitting under .200). Morrison was 1 for 4 overall. The team as a whole was 5 for 32 at the plate. That's not getting it done.
Alex Cobb (9-9) went 6 innings, allowing 7 hits, 3 runs, striking out 6. Brad Boxberger went two thirds, allowing 1 hit, 2 runs, 1 walk and struck out one. Dan Jennings went 1.1 innings, allowing 2 hits, 1 run, and walked one batter.
The Rays will send Jake Odorizzi (game begins at 8:15 PM) to the mound for the final game of the series. If they can't take this series than I have no idea why I am still even keeping an eye on the wild card standings.
Durham Bulls
The Bulls fell 2 to 1 to Charlotte, putting them at 82-53 on the year. Mallex Smith was 2 for 3 and scored that lone run. Willy Adames was 2 for 4 with the RBI. Daniel Robertson was 2 for 4 with 2 strike outs. Ryan Yarbrough (ND) 6 innings, allowing 5 hits, 1 run and struck out 8. Chih-Wei Hu went an inning and struck out 2 in relief.