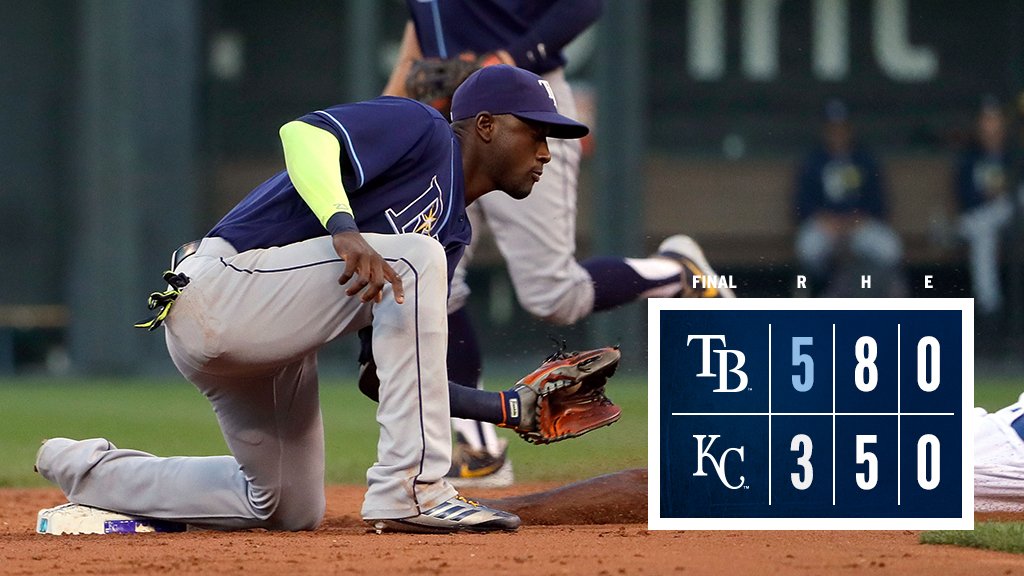 The Rays, 67-68, won 5 to 3 over Kansas City last night, marking the first time since 2009 they have taken a road series against the pesky Royals. 
In the 3rd, the Rays got the offense going starting with an Adeiny Hechavarria home run (4) to get it started. Steven Souza Jr. hit an RBI single followed by a sac fly by Evan Longoria to make it 3 to 0. In the bottom of the inning, the Royals tied it up 3 to 3 on a 3-run home run. In the 5th, the Rays struck back on two solo home runs from Souza (29) and Logan Morrison (33) to make it 5 to 3. After that, the bullpen would go on to make that lead hold.
Kevin Kiermaier was 1 for 4 and scored a run. Souza was 2 for 4 overall while Lomo went 1 for 4. Again, Evan Longoria and others did not come through again in this series, but the other bats in the batting order did.
Jake Odorizzi (7-7) went 5 innings, allowing 4 hits, 3 runs, 3 walks and struck out 6. It wasn't a great outing, but the bullpen backed him up. Steve Cishek worked two clean innings, striking out 2. Tommy Hunter worked a clean inning while Alex Colome (S 40) struck out the side in the 9th to close this series out.
The Rays are off on Thursday night before starting a 3-game series on Friday night at the Chicago White Sox (first game begins at 8:10 PM). The Rays will send Blake Snell to the mound for that first game. Let's see if any momentum follows the team into this next series where they should dominate.
Durham Bulls
The Bulls won 10 to 6 over Gwinnett to run their record to 83-53. Willy Adames was 2 for 5 with a home run (10) with 4 RBIs. Jake Bauers was 2 for 4 with 2 RBIs with 2 runs scored. Shane Peterson was 3 for 5 with an RBI and scored a run. Adam Kolarek (3-4) went 1.1 innings in relief and struck out 2 batters.