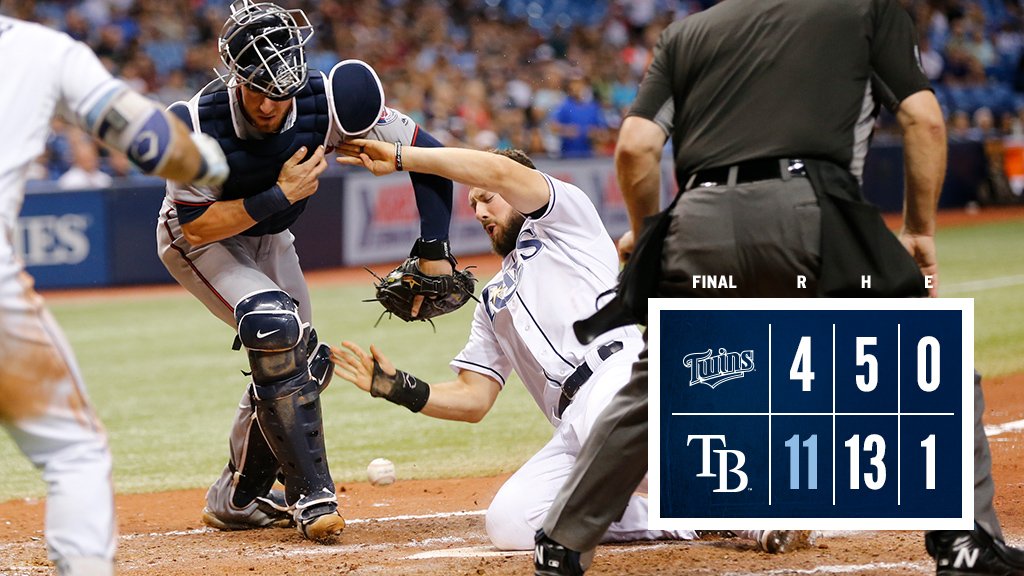 The Rays, 69-70, got a game back in the wild card standings, beating Minnesota 11 to 3 last night. The question now is can they sweep the series? Win one, lose one doesn't work anymore.
In the 2nd, the Rays were down 1 to 0, but they got it going in the 3rd. Corey Dickerson hit a home run (26th of the year) to make it 1 to 1. Evan Longoria then hit an RBI single to make it 2 to 1. In the 6th, Dickerson hit an RBI double to make it 3 to 1 late in the game. Adeiny Hechavarria hit a sac fly to make it 4 to 1 and then Kevin Kiermaier made it 6 to 1 with a 2-run single, pushing the Rays further ahead. In the 7th, Logan Morrison hit a home run (36th) to make it 6 to 1. In the 8th, the Twins made it 7 to 3 before Trevor Plouffe made it 8 to 3 in the bottom of the inning on an RBI single. After that, Evan Longoria hit a 2-run single followed by an RBI single from Lomo to make it 11 to 3 late in the game.
Dickerson was 3 for 4 overall in the game with 2 RBIs and scored 2 runs. Kiermaierw as 3 for 5 with 2 RBIs and scored 2 runs. Lomo was 3 for 5 with 2 RBIs as welle.
Alex Cobb (10-9) went 5.2 innings, allowing 3 hits, 1 run, 2 walks, and struck out 7 batters in a solid start. Dan Jennings retired the one batter he faced. Steve Cishek went an inning and struck out one in clean relief. Andrew Kittredge went 1 inning, allowing 1 hit, 2 runs, and 1 walk. Ryne Stanek worked the 9th, allowing a run, a walk, but struck out all three batters to end the game.
The Rays will send Jake Odorizzi to the mound for the second game of the series (game begins at 7:10 PM).
Durham Bulls
The Bulls fell 3 to 0 to Gwinnett to end the regular season, putting them at 86-56. Mallex Smith was 0 for 3 with his 21st steal of the year. Shane Peterson was 3 for 4 with a double. Kean Wong was 1 for 3 with a double and a walk. Brandon Lawson made his AAA debut (USF pride) and went 2 innings, striking out 3 batters and allowed a walk. The Bulls are off on Tuesday before they begin the playoffs on Wednesday.