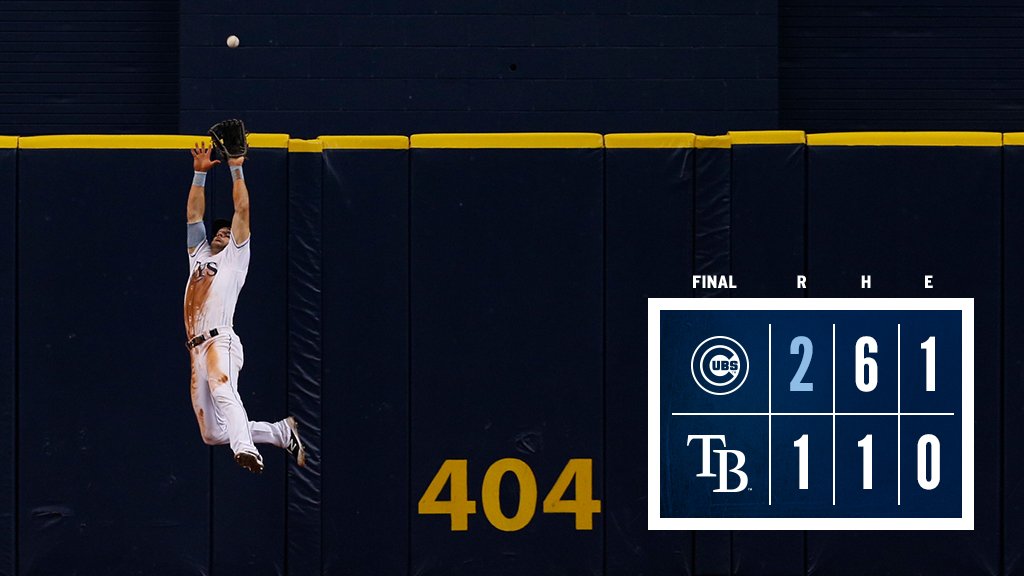 The Rays, 73-78 fell 2 to 1 to the Cubs last night as the team welcomed back former skipper Joe Maddon (some fans were not so thrilled I'm sure). 
In the 2nd inning, the Rays were down 1 to 0. In the 5th, Javy Baez made it 2 to 0 against the Rays as Tampa could not buy a hit at this stage of the game (insert budget jokes here). In the bottom of the 6th, Brad Miller hit a solo home run to break up the no hitter the Cubs had going to make it 1 to 2 in the game. That lone hit by Miller would be the only hit for the Rays in this game as a former minor league arm from the Rays system, Mike Montgomery, dominated. Wade Davis, another former Ray, closed the game. Fitting, really.
Chris Archer (9-11) went 6 innings, allowing 4 hits, 2 runs, walking 1 batter, and struck out 6 against his former club (farm system but still counts). Jose Alvarado went two thirds, allowing just one hit. Andrew Kittredge went an inning, striking out one. Dan Jennings went two thirds and Chaz Roe went another two thirds, allowing 1 hit but struck out two to cap off the Rays bullpen work for the night.
The Rays will turn the ball over to Blake Snell (game begins at 7:10 PM) for the second and final game of this quick late season series.
Side note. It was announced after the game that Daniel Robertson, Chih-Wei Hu, and even Xavier Cedeno, would be called up to rejoin the roster for the final two weeks of the year. This comes after the Durham Bulls won their Triple-A national championship last night, 5 to 3, over Memphis. This is a very nice accomplishment for the Bulls and it is nice to see at least one team in the Rays system take home a title.